China has sought to step up cooperation with Central Asian nations on security, amid concerns in Beijing over a potential resurgence of terrorism in neighbouring Afghanistan as the US withdraws its troops from the country.
Beijing fears it could pose a threat to its Belt and Road Initiative infrastructure projects in the region, and that instability in Afghanistan could give ground to Islamic fundamentalism that would spill over into China's predominantly Muslim Xinjiang region that borders the country.
During talks with his Central Asian counterparts on Wednesday, Chinese Foreign Minister Wang Yi said they should work together to crack down on terrorist forces and prevent transnational crime to create a "safe Silk Road".
"We should resolutely crack down on the 'three evil forces' [of extremism, terrorism and separatism] including the East Turkestan Islamic Movement," Wang told the foreign ministers of Kazakhstan, Kyrgyzstan, Tajikistan, Turkmenistan and Uzbekistan in the Chinese city of Xian, in Shaanxi. Beijing has blamed ETIM for violence in Xinjiang.
"We should cooperate to prevent transnational organised crime, on drugs control, network security, managing non-governmental organisations, the security of large-scale activities and projects, and to safeguard our institutions, personnel and facilities to create a safe Silk Road," Wang said.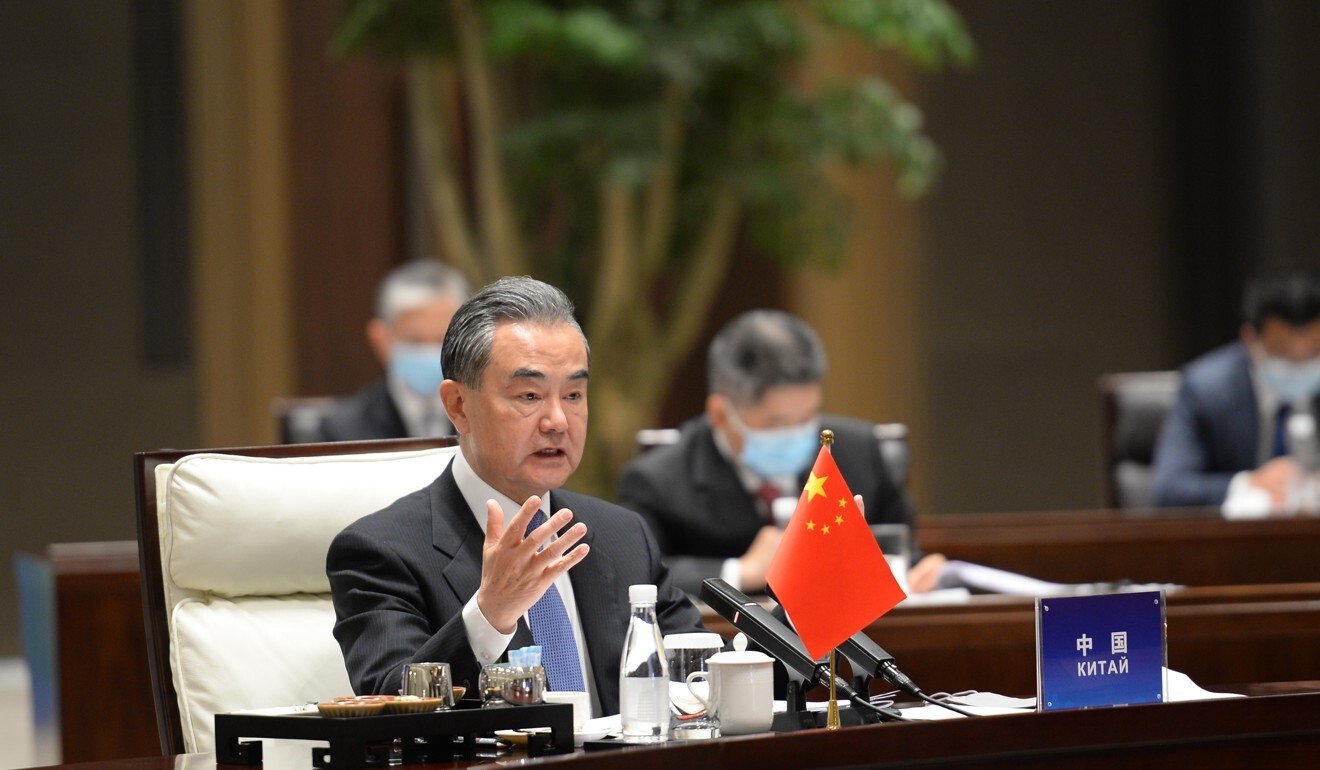 Foreign Minister Wang Yi meets his Central Asian counterparts in Xian on Wednesday. Photo: Xinhua
He was referring to Beijing's controversial belt and road strategy, known as the "new Silk Road" – a vast global infrastructure development plan that aims to boost China's trade links across Asia, Africa, Europe and beyond.
Two of the belt and road network's key "economic corridors" – which include special economic zones, energy and transport infrastructure – pass through central and southern Asia. The corridor through Pakistan is strategically important for China to provide an alternative route for oil and gas coming from the Middle East, rather than going via the Strait of Malacca.
In Central Asia, Chinese companies invested nearly US$50 billion in Kazakhstan, Kyrgyzstan, Tajikistan and Uzbekistan between 2005 and 2020, including on belt and road projects, according to the China Global Investment Tracker of the American Enterprise Institute, a Washington-based think tank.
Wang also said foreign troops should be pulled out of Afghanistan in an orderly and responsible manner, without mentioning the United States, which aims to have its remaining 2,500 to 3,500 troops out of the country by September after two decades of deployment there.
Analysts said there could be more turmoil in Afghanistan as US and Nato troops completed their military withdrawal, and that could have an impact on China's belt and road projects in the region.
Wang Jin, a research fellow at the Charhar Institute, a think tank in China, said projects in Central Asia could be most at risk.
"It means the future political direction of Afghanistan is uncertain – if there is turmoil in the country's security situation it may spill over into neighbouring countries, and the result will be a negative impact on belt and road projects in the region," he said.
Beijing has repeatedly called for foreign troops to be withdrawn from Afghanistan in "a responsible manner" amid concerns over an emerging security vacuum in the war-torn country.
Foreign ministry spokeswoman Hua Chunying on Monday said the "abrupt US announcement of a complete withdrawal of forces from Afghanistan has led to a succession of explosive attacks", after a series of blasts at a girls' school in Kabul on Saturday killed more than 60 people, most of them students.
On Wednesday, Foreign Minister Wang said China supported Afghanistan to "form inclusive political arrangements through Afghan-led and Afghan-owned peace negotiations".
"China and Central Asian countries should play a constructive role in this regard, based on their respective advantages," he said.
"South China Morning Post"
Rachel Zhang in Shanghai
14.05.21